Millonarie Maker
Millionaire Maker is a draw included in Euromillions, which currently takes place every Euromillions draw awarding 1 million pounds to the winner of the winning code.
Friday 17 March 2023
Million Maker JMKS65857
"Millionaire Maker" is a game associated with Euromillions, which consists of the assignment of a code to each of the single Euromillions bets placed and for each of the Euromillions draws in which the ticket participates. If a multiple bet is placed, a number of codes equal to the number of single bets equivalent to the multiple bet will be assigned. This code is different from the code of the This code is different from the European Millionaire Maker code.
The codes will not be chosen by the player. It will be the Gaming System who assigns the code or codes to the ticket.
The code assigned to each of the Euromillions bets is unique for each draw of "Millionaire Maker" so that there cannot be more than one bet with the same code in each draw.
In the case of weekly or multi-weekly participation Tickets, the code will be valid to participate in all "Millionaire Maker" drawings that take place during the week(s).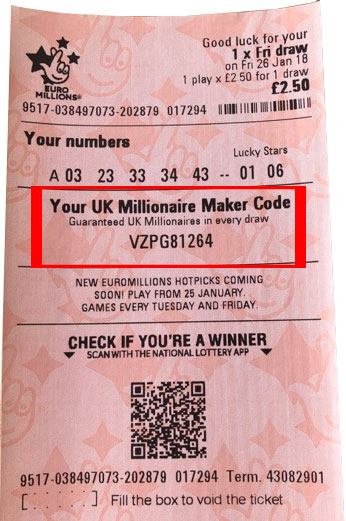 Millonarie Maker ticket image
Prizes
There is only one prize category of one million euros for the ticket containing the winning code. However, the organizer may offer, in the draw it determines, a prize of more than one million euros or several prizes of one million euros, depending on the existing reserve fund.
Millionaire Maker Code
The codes are automatically generated and assigned by the raffle organiser.
The code is made up of 4 letters + 5 digits. Example: BCDF12345
Part 1: 4 letters

After the country's own letter, 4 letters from the following are included:

B, C, D, F, G, H, J, K, L, M, N, P, Q, R, S, T, V, W, X, Z

Neither the vowels (A, E, I, O, U) nor the Y are used to generate Millionaire Maker codes

Part 2: 5 digits

Then 5 digits (0 to 9) are included, forming a number between 00,000 and 99,999
Execution of the Draw
The draw will consist of the random selection of one or more codes from among all participants, each of which will be assigned a fixed prize. Normally, in Millionaire Maker only 1 code is chosen per draw, although the organizer reserves the right to choose more, each of which would have a prize of 1 million euros.
Once the drawing is concluded, the scrutiny of all the codes participating in the game will begin in order to award the corresponding prizes, based on the coincidence between the code number(s) obtained in the drawing and those randomly assigned by the Central Computer System to the participating slips.
Last date this page was updated: 17/03/2023 (22:40)